Lorie of Berks County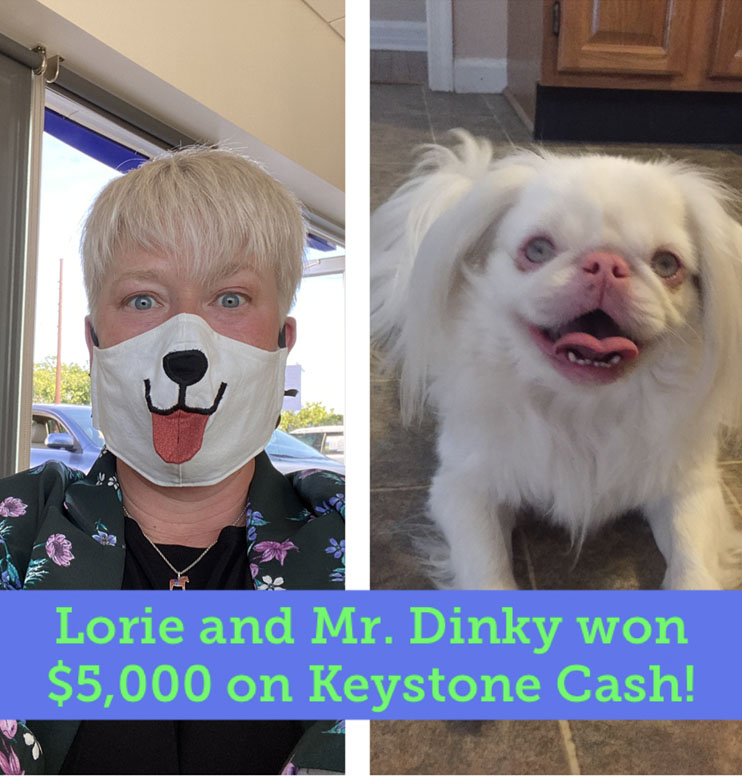 One Saturday in August of 2020, Lorie of Berks County said she and her dog Mr. Dinky were watching a movie while she played the PA Lottery online game, Pennsylvania Keystone Cash.
"I enjoy the colors and find it relaxing," said Lorie.
Lorie said she suddenly saw something at the bottom of her screen that alerted her to a big win.
"I did not believe it at first. When I saw at the bottom of the screen that I won $5,000, I sat for a while, and took a screen shot," said Lorie.
Lorie said she was in disbelief, excited and "super happy."
"[I told] Mr. Dinky, he's my rescue pupper. Then, I told the people in the household. My hubby George was happy for me and signed up for the [PA Lottery] app as well!" said Lorie. "Mr. Dinky was happy since he gets more treats as a result. My husband was super surprised and signed up for the app. My co-workers were also happy for me and a few downloaded the app."
Lorie said she plans to use the money to pay some bills and will enjoy more PA Lottery online games.
"The best part of winning is that I can keep playing. I enjoy your games so much, but you must set a budget. I hope to win more so I can keep playing!" said Lorie.
For Lorie, playing the PA Lottery also means she gets to help others.
"Another part I love about the PA Lottery is that the money stays in PA and goes toward our senior citizens," she added.
Congratulations, Lorie!